"The World of Studio Ghibli's Animation" Exhibition has already closed on November 3rd, 2019. Thank you.

Come before it's gone
Not to be missed
"Best of the Best"
- Studio Ghibli
Superior Japanese Craftsmanship
From fantasy
to reality
The most anticipated exhibition of the year, Fans have been anticipating a large-scale Ghibli event in Hong Kong for quite some time. But this summer, the wait is over! Our exhibition is presenting ginormous 3D sets and installations and re-creating iconic scenes from the cinematic masterpieces of Dir. Isao Takahata and Dir. Hayao Miyazaki. The classic selection includes My Neighbour Totoro, Castle in the Sky, Kiki's Delivery Service, Porco Rosso, Pom Poko, Princess Mononoke, Spirited Away and Howl's Moving Castle. Let's realize our dream of stepping into the imaginative worlds of Studio Ghibli's animation!
An exhibition for all
Rediscovering fantastical masterpieces
Studio Ghibli's cinematic worlds enchant kids with their wildest imagination, while touching the soul of adults with their heartfelt reflections. They are time-defying classics that keep on inspiring different generations. In this time-transcending Ghibli rendezvous, you can also find Hong Kong-exclusive Ghibli merchandises. No matter if you are a long-time fan or just a newbie, you will discover different touching moments with us!
Authentic taste
of Ghibli
Compelling interactive experience inside cinematic scenes, The exhibition will feature meticulous sets and installations with original design by Studio Ghibli themselves. Professionals are flown in from Japan to supervise the production process. They even hand-painted the walls and floor with mural techniques. The lighting, video, sound and optical illusion effects combined are creating a stunning and captivating atmosphere in each scene. You can also interact with your favourite characters, be part of the movies and capture your touching memories in pictures once again!
More than just a
nostalgic rendezvous
But a celebration to
pass on the Ghibli heritage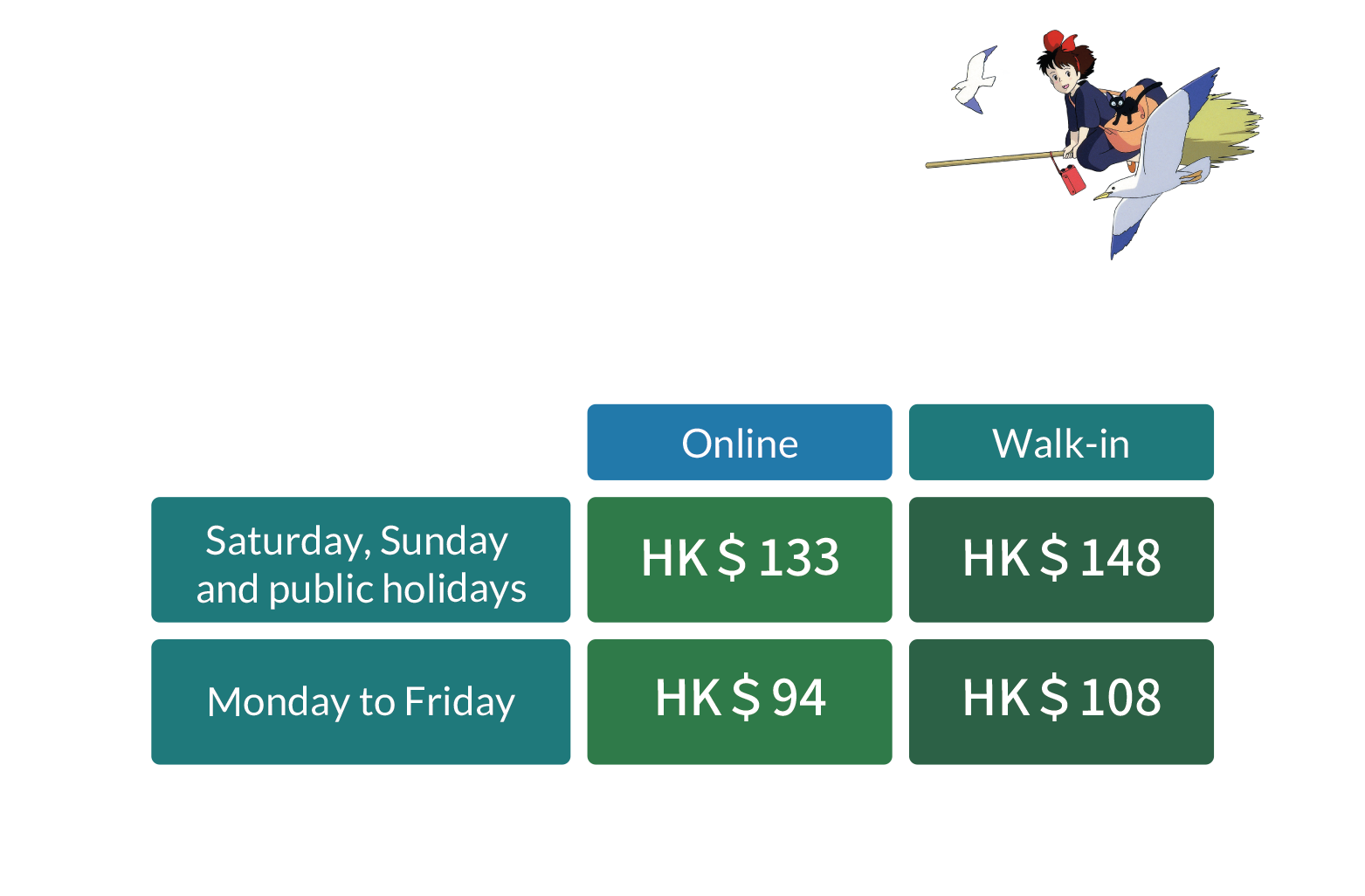 The exhibition
is now closed.
After ticket purchase, please click Reserve Time button, to schedule your visit date & time
A QR code will be presented upon successful reservation, please keep it save for entry purposes.

*For group & school booking please contact :
booking@ghiblihk.com

© 1988 Studio Ghibli © 1997 Studio Ghibli - ND © 1989 Eiko Kadono - Studio Ghibli - N © 1986 Studio Ghibli
How to get there
Venue
Portal 6311
18 Sheung Yuet Road, Kowloon Bay
By MTR
Walk 6-10 minutes from Exit A, Kowloon Bay MTR Station
By bus
15A Tsz Wan Shan (North) <> Ping Tin
22 Festival Walk <> Kai Tak Cruise Terminal
28B Kai Tak <> Choi Fook
107 Wah Kwai Estate <> Kowloon Bay
297 Hung Hom Ferry Pier <> Hang Hau (North)
606 Siu Sai Wan (Island Resort) <> Choi Wan (Fung Shing Street) Bus Terminus
74A Tai Wo <> Kai Yip

By minibus
48 Shun Lee <> Kowloon Bay
68 Choi Wan Estate <> Kowloon Bay
110 Tiu Keng Leng <> Kowloon City